Hydrafacial, radiofrequency by micro-needling, laser, peeling, dynamic phototherapy, mesotherapy, skinboosters, botox or hyaluronic acid, lifting of the face, forehead or lower third of the face? combined or combined treatments? The techniques of medicine and cosmetic surgery allowing to take charge of the aging of the face are numerous and sometimes respond to similar indications (wrinkles, sagging skin, loss of volume or lack of hydration).
To support you in the treatment of signs of aging in the face, Dr. Kron and his team have set up a pre-consultation for face diagnosis (price of this pre-consultation: € 0) whose objective is to inform you according to your request and the use of scientific analysis tools of your initial anatomy so as to set up a tailor-made therapeutic protocol and a global treatment (cosmetic and / or medical and / or surgical) rejuvenation of your face.
A comprehensive, customized cosmetic, medical and aesthetic approach
The face diagnostic visit falls within the framework of the cosmetic, medical and aesthetic approach of the management of facial aging offered by Dr. Cédric Kron.
This comprehensive and tailor-made approach is part of the conviction that each patient has specific needs and that there is no single "remedy" for treating an indication, but a set of techniques for correcting and preventing aging over the long term. of the face.
This global approach to facial aging combines 4 types of expertise:
Scientific expertise:
Use of scientific diagnostic tools for skin aging such as Visia Complexion Analysis (latest generation) or Skinscope LED from Skinceutical allowing an objective scientific analysis of the skin of your face on all of its aging criteria in order to better inform you and better measure the objective results of the treatments implemented.
Medical expertise:
Treatments of aesthetic medicine allow to respond to indications concerning the signs of skin aging on the face. These include lasers, radiofrequency by microneedling, dynamic phototherapy, Hydrafacial, peels, mesotherapy (mesolift), injection of hyaluronic acid, skinboosters or botulinum toxin (botox).
Surgical expertise:
Depending on the condition, facial cosmetic surgery techniques will more effective and sustainable to treat signs of aging on the face.
Dr. Kron notably developed the LVPA facelift technique, (presented to the National Academy of Surgery for the first 520 patients operated on February 5th, 2020), which aims for a lasting and natural result with usually simple operating suites and "invisible" scars. Indeed, several lifting techniques exist, it is a question of finding the best compromise by each patient between the results to be expected for the best benefit / risk ratio. During your consultation, Dr. Kron will inform you precisely about all this.
Cosmetology expertise:
The Universkin functional dermatology protocol allows the realization of tailor-made cosmetological preparations whose active principles and their dosage are determined by the medical team following a complete diagnosis of the patient's skin condition.
When necessary, Dr. Kron may be required to prescribe you a product other than a Universkin preparation, such as Skinceuticals, which have some of the most concentrated sera in cosmetics. Cebelia is also a cosmetic brand that is often prescribed because it presents certain products with innovation patents filed with the CNRS and very serious scientific specifications for our firm. But prescriptions from other brands such as Laroche-Posay or Avène for example for certain sensitive skin will also be possible.
Custom cosmetological prescriptions make it possible to target the specific needs of your skin. It also lets the surgeon optimize the result of an aesthetic medical or surgical treatment.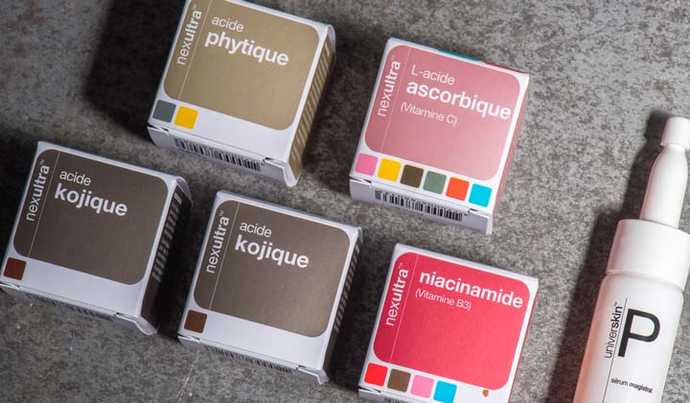 Scientific research tools used for diagnosis
To better understand your needs and meet your expectations, two devices from scientific research are used during your face treatment diagnosis. They allow to complete the interview on your expectations as well as the examination of the condition of your skin by offering rigorous measurements and observations. These tools make it possible to identify particularities of your skin that are not necessarily visible to the naked eye.
Skinscope LED from SkinCeuticals Lab
Skinscope LED features act as a dermatological magnifier, thanks to a dual diagnosis using both daylight and ultraviolet (UV) light.
In daylight mode, the Skinscope LED makes it possible to precisely identify and locate the most significant problems of facial skin. These include major wrinkles, areas affected by fine lines or a cloudy complexion, the presence of redness, stains, greasy pores or acne scars.
In UV light mode, the Skinscope LED identifies skin problems that are invisible to the naked eye. The ultraviolet light updates fluorescences in the epidermis, matching to different symptoms of skin aging. It may find pigmented spots, peeling of superficial layers of the epidermis, symptoms related to a lack of hydration or oily skin (clogged pores).
The Skinscope LED reveals imperfections of the facial skin found in lower layers of the epidermis. This diagnosis makes it possible to determine a preventive treatment protocol for the face, even before these signs of aging or skin imperfections appear.
Visia Complexion Analysis:
VISIA Complexion Analysis is a photographic and computer analysis tool used in facial aging diagnosis developed by Canfield Laboratories.
This device offers a visual and quantitative assessment of the skin's condition thanks to multi-point photographs. The conditions identified by the device (spots, blackheads, areas of inflammation, clogged pores, lines and wrinkles, pigmentary spots, etc.) are superimposed on the photographs.
VISIA offers an "anti-aging" diagnosis of the skin to better target rejuvenation care and offer objective monitoring of patients' skin. On one hand, it allows to simulate future aging of the face over a period of 5 to 7 years. On the other hand, it makes it possible to scientifically measure the results obtained by aesthetic treatments in the form of "before-after" photographs accompanied by quantitative observations.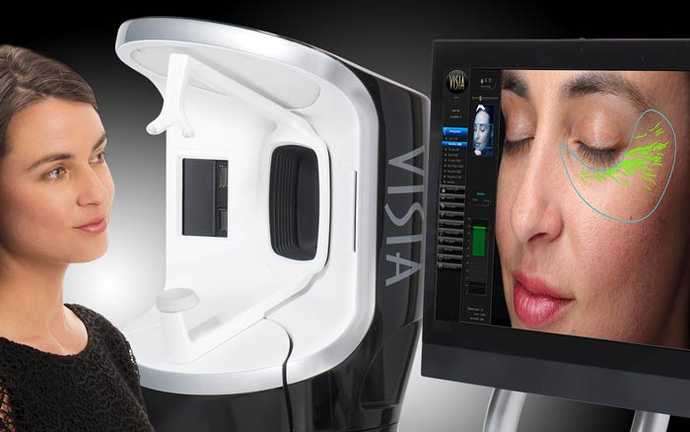 A combined therapeutic protocol tailor-made
After your visit and complete diagnosis established, a combined therapeutic protocol will be recommended to you. It is meant to provide a custom solution according to the specific anatomy of your face, the conditions recorded during the diagnosis and your own expectations in terms of results.
To obtain optimal results, this protocol generally associates several techniques of aesthetic medicine with the principles of Universkin's functional dermatology. After each session, the protocol can be adapted by Dr. Kron based on results, especially those measured with scientific diagnostic tools.
Some of the cosmetic treatments targeting the face that can be proposed to you include:
Keybody-Skin treatment to regenerate your skin in depth,
Facial peel to reduce skin imperfections,
PRX T33 peel to revitalize your skin,
HydraFacial to cleanses, extracts and hydrates your skin
Facial mesotherapy (or mesolift) to make skin more glowing
Skinboosters injections to hydrate your skin deeply and prevent/remove wrinkles
Hyaluronic acid injections to fill facial wrinkles and restore volumes,
Botox injections to treat the facial expression wrinkles,
Laser sessions to correct skin imperfections,
Silhouette Soft tensor threads for a lightweight lifting effect.
This protocol can also include bespoke Universkin serum prescriptions that will allow you to prepare your skin for treatment and / or further amplify their results.
In some cases, the diagnosis identifies conditions that would be more judiciously and effectively treated using cosmetic surgery. In particular, a LVPA face lift may be recommended when the conditions relate to greater sagging skin, which requires long-lasting skin volumes repositioning. When this type of condition is found during the diagnosis, a visit for facial cosmetic surgery will be scheduled.