Dr. Kron and his team have set up a free consultation to answer your needs related to body contouring, fat removal and toning of the body.
The objective of this first interview is to use tools to measure the composition of your body in fat and muscle. This will help provide you with the best recommendation for slimming and toning your body and offer a therapeutic, tailor-made procedure to get the result you want and that best matches the way you picture yourself moving forward.
This first diagnosis makes it possible to assess whether or not you are a good candidate for non-invasive treatments for permanent fat suppression, such as cryolipolysis with Coolsculpting or EMSculpt.
1. Non-invasive treatments for permanent fat suppression
For a long time, liposuction was the standard aesthetic surgery technique to remove excess fat and fat deposits that resist sports and dieting.
Recently, alternatives techniques in the field of aesthetic medicine have demonstrated their effectiveness in treating certain indications identical to those of liposuction. These techniques offer similar results in terms of thinning, without the side effects or risks inherent to a surgical procedure (scars, side effects, anesthesia, recovery time).
In our practice, we offer two types of aesthetic medicine treatments that permanently eliminate fat: Coolsculpting cryolipolysis and EMSculpt. To our knowledge, these are the two devices that offer the most significant results in slimming and fat removal.
In both cases, these techniques are effective in removing fat located in the following areas:
Belly,
Inner thigh,
Outer thighs (saddlebags)
Hips (Love handles),
Buttock,
Back,
Arms,
Knees,
Thorax in men (adipomastia),
Neck, "Double chin" effect
2. Cryolipolysis with Coolsculpting
Cryolipolysis is an innovative aesthetic medicine technique based on the action of cold on fat cells. As these cells are more sensitive to cold than other cells of the body, they are damaged during treatment and are then naturally eliminated by metabolism.
In practice, the device is placed on the treated area for the duration of the treatment. The area is aspirated and maintained at a cold temperature with a gel pad that protects the skin. The treatment is not very painful as the cold acts as a natural anesthetic on the treated area even if patients usually feel tingling at the beginning and end of the session.
The result of a session of Coolsculpting cryolipolysis is not immediately visible at the end of the procedure: the cells damaged by cold are gradually and naturally eliminated by the body. The result can be regarded as definitive after 2 to 3 months even if thinning can already be seen after 3-4 weeks.
> Learn more about Coolsculpting Cryolipolysis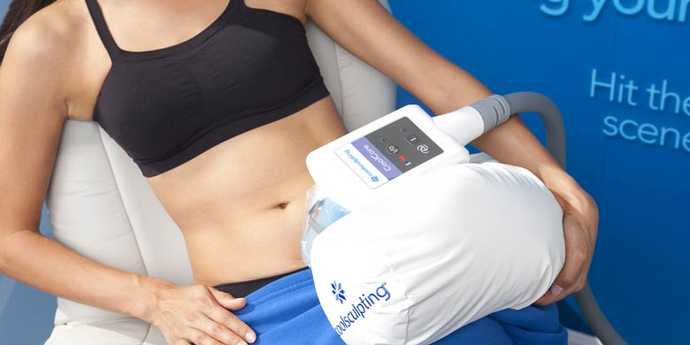 3. EMSculpt : Build muscle and sculpt your body
EMSculpt® (sometimes called EM Sculpt) is a non-invasive treatment for body contouring. This is the only treatment combining muscle building and fat removal. Indeed, EMSculpt simultaneously promotes muscle gain as well as the elimination of subcutaneous fat for optimal results.
The electromagnetic waves of EM Sculpt can cause up to 1,000 contractions in a few seconds. During a 30-minute session, the device causes about 20,000 contractions (about the equivalent of 20,000 squats or crunches).
Clinical studies have shown that EMSculpt reduces the fat layer by 19% and increases muscle mass by an average of 16% during a treatment consisting of 4 sessions spaced two or three days apart.
EMSculpt sessions are indicated for women and men who want to remove excess fat in the belly, redraw and tone their abdominals or their gluteal muscles.
Note: Both treatments can be combined during the same session to amplify result.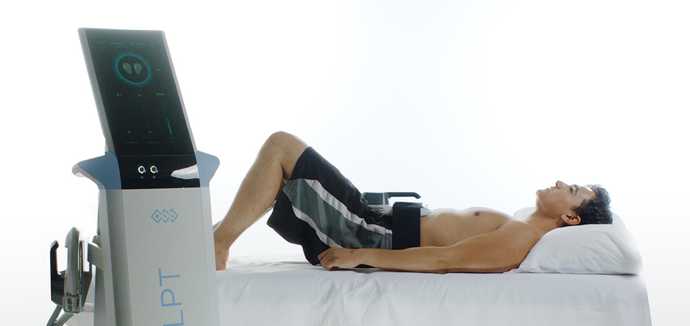 4. The Keybody Protocol: A Comprehensive Architecture Support body
Building on his expertise in the aesthetic and functional anatomy of the body and enjoying the achievements of scientific research, Dr. Kron is the founder of the Keybody protocol that aims at comprehensive care and customized remodeling the silhouette and architecture of the body.
This global approach to architecture combines 4 types of expertise.
Scientific expertise:
The cabinet is equipped with the Vectra XT device from the Canfield Imaging System Lab.
VECTRA XT is a 3D digital photography tool for the face and body. During a consultation, it allows a perfect analysis of the initial anatomy of patients.
After a treatment, Vectra XT also makes it possible to rigorously measure the results obtained in terms of thinning. This instrument can indeed measure and compare very precisely all volume variations obtained for aesthetic corrections of certain parts of the body.
Medical expertise:
The firm offers the two treatments of aesthetic medicine that have proven, to our knowledge, the greatest efficiency and reliability: Cryolipolysis with Coolsculpting and Keybody-Lipo.
During a diagnosis of your body contour, we will be able to evaluate if your request can be effectively supported by these devices as well as evaluate the type of results that you will be able to obtain.
At the end of the diagnosis, we will propose a tailor-made therapeutic protocol, using either Keybody-Lipo or cryolipolysis. For an even more satisfactory result, it can also be a protocol combining the two techniques: to benefit from the immediate result of Keybody-Lipo as well as from the deep action of Coolsculpting.
Surgical expertise:
If cryolipolysis and Keybody-Lipo allow to obtain significant results in terms of definitive fat suppression, it is nevertheless necessary to consider that these treatments do not make it possible to take care of all the indications and that in certain cases, it It will be necessary to consider surgery such as liposuction or abdominoplasty, for example. This will be confirmed in consultation with Dr. Kron.
Sports expertise:
For several years, Dr. Kron has been interested in pre- or post-operative physical recovery techniques or sports. With the help of a physiotherapist expert in postural reeducation and sports coaches, he integrated the XBody electro-myo-stimulation device into his practice.
XBody combines the effects of myoelectric stimulation with a workout. Based on the electropostural® method, which consists of dynamic movements to counter electrically stimulated contractions, XBody provides spectacular results on the body's architecture.
The practice of Keybody is particularly indicated in people who wish to sculpt their body, redraw their muscular structure, reduce their fat mass and tone their body.
XBody also appears to be an effective complement to all procedures that reduce fat, such as lipoaspiration, cryolipolysis or UltaSlim Professional. After removing stubborn excess of fat, XBody can develop the underlying muscle architecture to "dry" the skin, redraw the muscle volume (buttocks very spectacularly for example) and amplify the results.
> Learn more about the different types of consultations
> Learn more about the Keybody protocol